Post by roxolid on Nov 27, 2018 6:12:31 GMT -5
I'm sure I've tried this before but thought I'd chuck it out there again to see if there is any interest in me/others developing the idea...
Basically, with MURPG we have the old problem of 'blowing your load' (so to speak) in the first round of combat and being on the back foot thereafter, where whoever has the best modifiers and energy recovery rate wins. What I'm proposing is basically a rewrite. Visit every Action and modifier and change how it works one way or another.
The biggest change is using energy stones to buy dice, the second biggest is that ability scores ADD to the total you roll instead of limiting the number of stones you can spend in one go. With dice, you get the unpredictable, with stones, you still keep the resource management aspect of the game.
I also looked at keeping something from the Marvel Heroic game, so different die types and certain Actions or modifiers that 'step up' whatever die type you buy or 'add another die'.
This is all at the draft/idea stage. Open to suggestions or poking holes in it where it can't work. Combat should be more interesting, with the ability to spend stones on attack and defence with a two step process. Basically combat acts simultaneously (or possibly with the option that whoever acts first has a bonus to their attack). Whoever wins the first step can then apply modifiers from strength and weapons, and buy dice to add to their total. The defender applies durability, toughness and dice if they so choose.
Anyway, here's an example...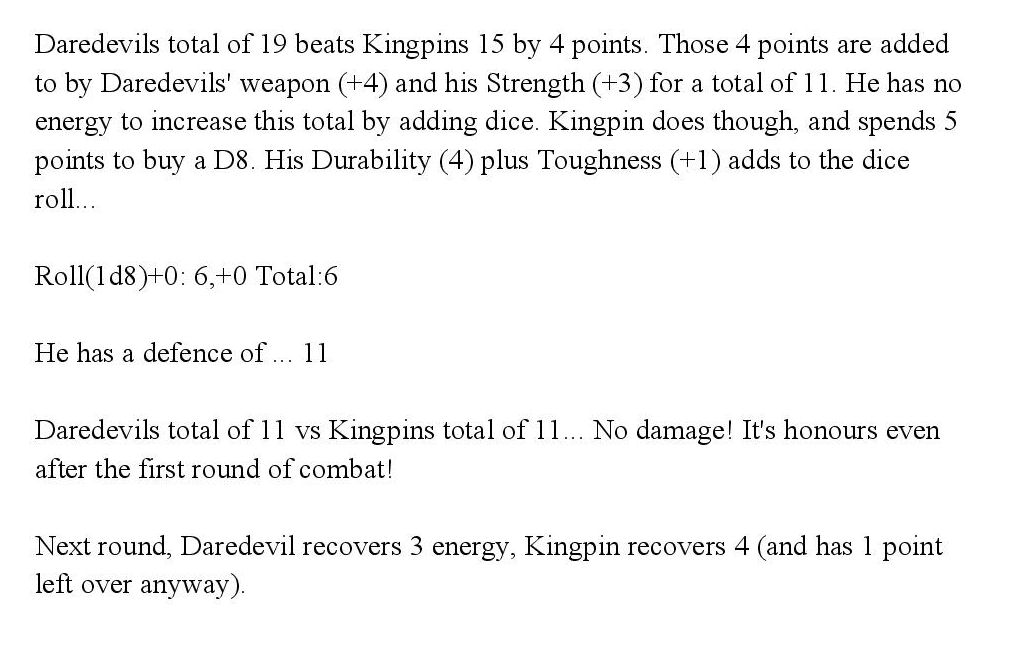 I've not written anything beyond this, or looked at whether Actions stay as they are, modify the dice roll (adding to action score) or step up/add another die of your highest type. I can see Spidermans webbing being an attack that hardens every round, for example. In the first round, the attack must hit, and the amount of 'damage' it does is the resistance for someone to break free. Then for the next three rounds the resistance increases by 1D12. Someone like Thing or Thor can break it with effort, but the Punisher with 3 strength would have to get very lucky on their rolls (or low webbing rolls) or they are stuck there waiting for the cops to show up and read the note Spidey left to the dangling Punishers chest.
Or they are like British cops and take more than an hour to get there and Punisher gets away scott free...
(by the way the roll format in the example is copied straight from WOTC dice roller page, so is a bit clunky)