Post by Manah on Jun 20, 2019 23:04:18 GMT -5
ERZAThe Fairy Queen of Fairy Tail and
Host of the All-Black Symbiote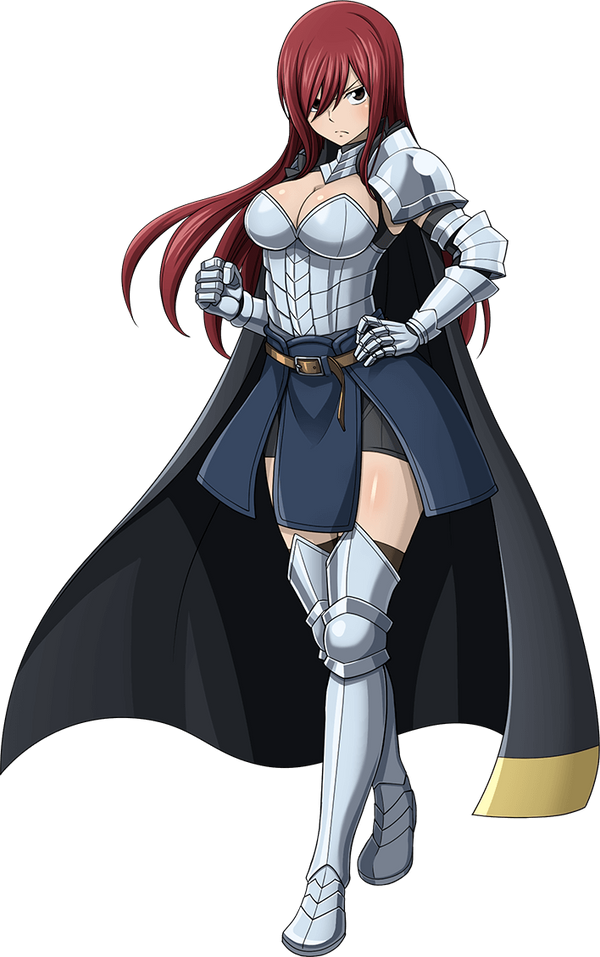 Erza (OOC: Pic used with permission from LordCamelot2018 from DeviantArt. All credit goes to them.)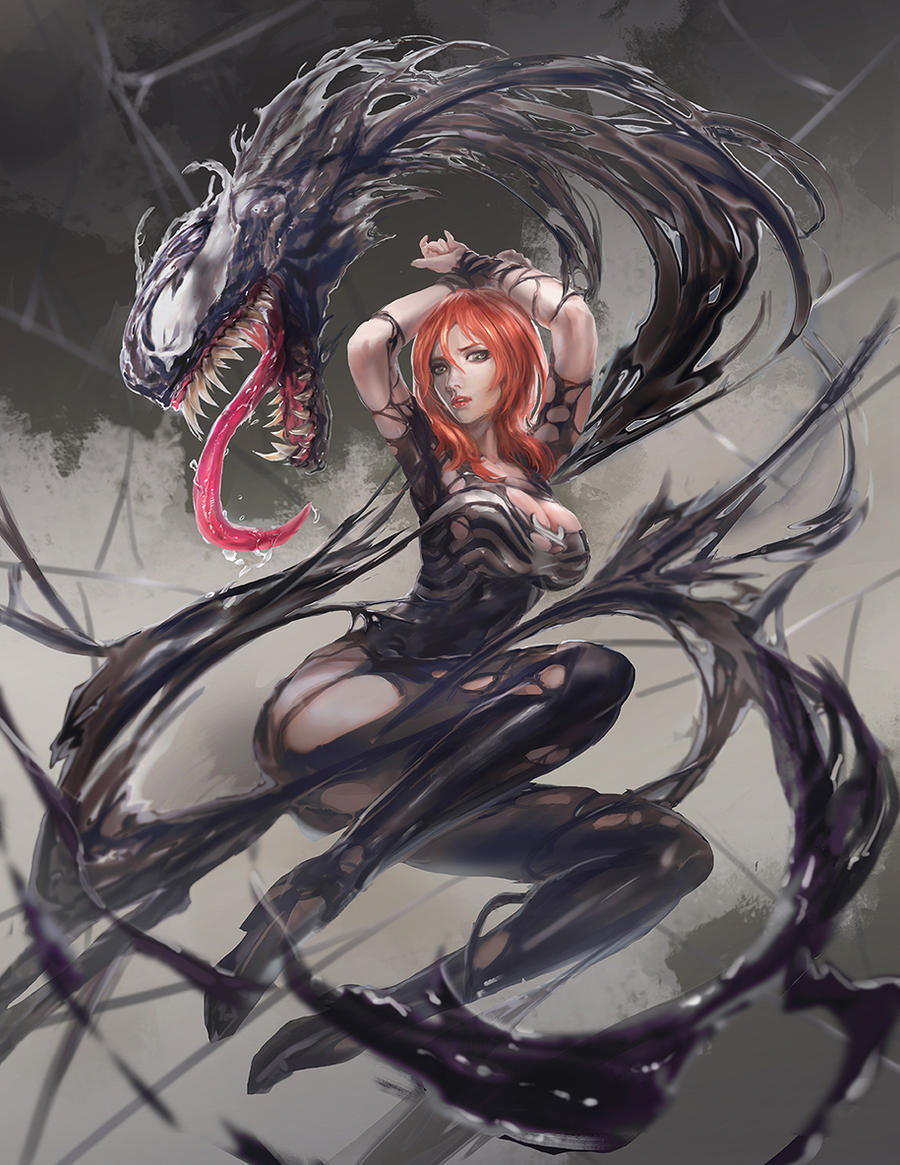 All-Black in Symbiote Form (OOC: Pic used with permission from CGlas from DeviantArt. All credit goes to them)
QUOTE:
"My bond with my friends is unbreakable, and so is my will. Come... give me your best shot. I swear to you, it will not be enough. I will defeat you no matter what, for their sake!"

Full Name:
Erza Scarlet
Age:
20
Other aliases:
The Titania, All-Black
Occupation:
Member of Fairy Tail, S-Class Mage, Ex-7th Guild Master of Fairy Tail, Host of the All-Black Symbiote
Marital Status:
Single
Height:
5'7"
Weight:
132 lbs
Eye color:
Brown
Hair color:
Scarlet
Species:
Human (Mage)/Symbiote
Notes:
Wears the Fairy Tail guild mark on the middle of her left upper arm, and has an Artificial eye instead of her right one (it looks normal, though; see modifiers). Erza's magical aura is scarlet red when visible.
Normal Erza/Symbiote Erza
(The symbiote stats are always active even when the symbiote isn't apparent. The Normal stats are kept just in case the two ever get separated for some reason.)
ABILITIESInt:
7
Str:
9/27
Agl:
8/16
Spd:
7/17
Dur:
9/21
HEALTH:
9/21
P.L:
4/7
ENERGY:
42/78
P.L:
12/21
REGEN:
18/36
P.L:
8/12
SKILL:
6 (Regens 3 per panel)
ACTIONS
Close Combat: 9/12
(Str.bonus and 2 Wpn.modifiers)
-Efficient
-Skill Point System (Use Swords with Skill Point System)
-Hand-to-hand
-Martial Arts
-Bite
-Swords
-Necrosword
-Morphed Weapons
-Requipped Weapons
-Dual-wielding
-Fighting mages
-Inhuman Power
-Using powers in combat
-Fighting multiple/larger opponents
Ranged Combat: 8/11
(Str.bonus and Wpn.Modifier)
-Efficient
-Bows
-Requipped Weapons
-Morphed Weapons
-Improvised Weapons
-Thrown objects/opponents
-Heavy Objects
-Using powers in combat
-Precise shots
-Handling recoil
-Fighting larger/multiple opponents
-Using powers in combat
Acrobatics: 6/8
(Agl.bonus)
-Efficient
Wall-crawling: 7
(Agl.bonus)
-Usable as Water-Walking
-May exceed Speed 5, but automatically causes collateral damage
Prehensile Tongue: 7
(Agl.bonus)
-As Tendril Whip
-Range 1
-Due to her symbiosis with All-Black, Erza's tongue can essentially stretch and reach far outside of her mouth and grab and manipulate things and foes from afar with surprising - an inhuman - strength, and length.)
Telekinesis: 9
(Int.bonus and 2 Wpn.modifiers)
-Efficient
Necrosword: 12
-As Psi-Weapon, of Primordial Darkness element
-2x damage, 3x damage VS Gods/Cosmic Entities/Eldritch Abominations; AP (Ignores 5 Toughness even if No AP), Normal and Stun damage, After Effect, Draining, Can strike Phase shifted/Incorporeal entities. Stones of Stun damage are drained and gained by the user as per Improved Energy Drain.)
-
Corrupting Strike
(By lowering the Wpn.modifier by 2 for a panel or more, wounds inflicted by the Necrosword become extremely difficult to heal, as traces of the symbiote keep devouring flesh around them afterwards. Healing Factors are reduced by two steps as far as healing white stones is concerned, completely negating 2x Natural Healing Rate and regular Healing Factor and weakening the others. Normal Healing is slowed even more, allowing only 1w of Health per week, and healing via Medical/Mutant/Magical healing requires three times as many stones to heal a single White stone.)
-
Mystical Void
(The Necrosword can be used to parry/slice through most energy/magical effects, attacks and shields, as its primordial darkness energy devours others both mundane and mystical. If the user beats the Resistance required to 'hit' a given mystical effect with an attack/parry using the blade, its AN is opposed to the effect AN, negating it instantly if superior.)
-
Soul Bane
(If a killing blow's stones beat the target's Remaining White Stones of Health + Intelligence at the moment of death, their soul is devoured by the sword and permanently destroyed. It may only be restored by a god/Cosmic Entity/Eldritch Abomination of a greater level than Knull.)
Constitutent Matter: 10
-As Mastery of Constituent Matter (Int.bonus, Create/Manipulate)
-
Tendrils Whip
(Agl.bonus, Up to 1/3 uses per panel, rounded up; Only pays for most expensive use)
-
Webbing
(As Force Blast; Normal and Stun damage, OR Atk VS Agl+Ref.Dodge to web a target. D: AN and R: 2x AN to free oneself. Manifesting 'webbing' consisting of constitutent matter, Erza can use it in battle for multiple possible effects.)
-
Web-Slinging
(As the Action at Half this action's AN, rounded up.)
-
Stickiness
(At its user's discretion, matter generated by this power can be sticky to formidable extents, up to AN in D&R, allowing for multiple tricks with a bit of imagination.)
-
Weapon Morphing
(Grants the user the Weapon Morphing modifier at Half AN rounded up.)
-
Hammerspace
(As the Action at Half this Action's AN rounded up. The symbiote can convert to energy and hold matter and objects within its own form, and expel them when needed, allowing for easy transportation of personal items.)
-When separated from the symbiote, constituent matter lasts for roughly three hours before drying up and turning to dust in moments.
Devour: 10
-Atk VS Durability/Hardness; if target is killed/destroyed, it is devoured whole and 'digested' by the symbiote.
-Target must be immobilized, paralyzed, unaware or otherwise vulnerable for this attack to be usable on them.
-If a God/Cosmic Entity/Eldritch Abomination is devoured via this power, the user gains +2 to all A/A/M for 3 days. This effect, and its duration, is cumulative with mutliple devoured deity-rank beings.
-Absorption (All-Black has the ability to permanently acquire some powers and abilities from some of the victims it feeds from. If the GM deems it appropriate, they can rule that a given victim provides the user with such a power at their discretion.)
Umbrakinesis: 12
(Int.bonus)
-Efficient
-As Mastery of Primordial Darkness/Shadows
-Immunity to Element
-Unlimited Create/Manipulate
-Dark Blast (May use Any, Some, All or none of the following options: 2x damage, 3x damage VS Gods/Cosmic Entities/Eldritch Abominations; AP (Ignores 3 Toughness even if No AP), Area Attack/Area Effect; Normal and Stun damage, After Effect, Draining)
-Transform into Element (As Phase Shift; Transforms into living shadow for a certain duration.)
-Shades (As Create Illusions, but may only make them out of darkness/shadows.)
-Combine with Close/Ranged Combat
-Accumulate Energy for Greater effect (Not stunned afterwards)
Requip - The Titania: 10
(Int.bonus)
-Efficient
-Allows user to store and summon weapons of any type, armors and clothes at will, often with magic effects on all but user's regular clothes. Storing away items requires only 1 stone regardless of how many at once. Drawing them out requires her to pay for the highest AN/MN of the items drawn, although she can still summon as many as she pleases at once (for example, dozens of swords along with her Heaven Wheel's Armor.)
-Basically functions as Hammerspace, but only for weapons/armors, clothes and Accessories at AN.
-All Armors and Clothes can be resized automatically to user's size, or anyone else within 10' of range, and be either summoned to, or on, herself or anyone in said area.
-Many different clothes, outfits and shoes of many different types, along with accessories such as hats, jewels, nail polish, and whatever else of the sort, are stored within this power, along with over 100 different armors, and over 200 weapons.
-NOTE: The following weapons, armors and clothes are noted separately, but can be used interchangeably at the user's will. She could use a given sword with a different armor, and so on.
-Known Currently stored weapons/armors/clothes:
Heart Kreuz Armor (Simple +2 defense armor), and Sword (+2). This is Erza's standard armor.
Heaven's Wheel Armor (+4 Defense, No 2x damage; Flight 5 (May only fly for up to 5 panels), Makes the user's Telekinesis magic deal 2x damage, and may make up to 10 different attacks per panel by paying the cost of the highest attack, making her devastating against large numbers of opponents. Finally, has a Wing +3 Modifier (as Claws)) with hundreds of +3 swords floating around user. This armor looks like it's made of beautiful, shiny metal, and has wings made of blades.
Black Wing Armor (+2 Defense, Grants Flight 4 (May only fly for up to 5 panels), Adds +2 to any physical/magical attacks) and a black hilt, crystal blue blade sword (+3, Limited AP weapon). This dark, sexy armor has a pair of black leathery wings allowing user to fly.
Flame Empress Armor (A +3 defense armor granting +5 Fire Defense. It also grants its user Fire Magic 8 (Int.bonus, Efficient, Create/Manipulate, Force Blast - 2x damage, Sets flammable objects on fire, Combine with Close Combat, Mystical Nature)), and a +3 Flame Sword (2x damage due to the heat). This armor is a beautiful gold, red and black armor with dragon 'wings' in the back.
Giant Armor (This strong +4, No AP, No 2x damage armor grants +5 Strength to its user, and a base throw range of 5 for free), along with the spear known as the De-Malevo Lance (a +5, AP weapon capable of Sealing Darkness with AN 8 (Either a stones VS effect stones to dispel evil/dark powers, spells or effects, or as an Atk VS Durability+Magical Defense to seal away dark/evil powers or magic from a given victim for 1 hour per stone of 'damage'.
Adamantine Armor (The user's ultimate, high-end defense. A +8, No AP, No 2x damage armor with an additional +5 Magical Defense when worn, granting Flight 3 (for up to 5 panels) to its user. On top of it, she can use Force Field 6, by using both shields on that panel for that purpose), and two +3 Shields (baically 'weapons', but can be used as Force Field; read Adamantine Armor).
Purgatory Armor (This armor is one of the most powerful in the user's possession. It is a +5, No AP, No 2x damage armor granting +3 to all Physical Abilities. It makes all of her attacks 2x damage, adding 3 stones to the attacks instead if they already are 2x damage. Finally, it generates Fear 7 as a Modifier against all foes within an Area 3 around her), and a large, Spiked Mace (+6, 2x damage weapon, Automatically causes collateral damage.). This armor is terrifying to behold, dark grey and metallic in color, with several spikes around. It looks frightening, and makes most souls who witness it tremble in fear.
Lightning Empress Armor (A +3, No 2x damage armor also granting +5 Lightning/Electricity Defense. Also grants the girl Lightning Magic AN 10 (Int.bonus, Efficient, Create/Manipulate, Force Blast - 2x damage, Normal and/or Stun Damage, Accumulate Energy for greater effect, Combine with Close Combat, Mystical Nature). Also comes with the Spear of Lightning, a +4 Spear granting +2 bonus to all uses of Lightning Magic. This beautiful armor is golden, white and light blue in color. It is very beautiful to behold in action.
Flight Armor (A light, +1 defense armor, which adds +5 to the user's speed and replaces it with the user's normal Ability bonus to Close and Ranged Combat if the result is better to the user. It also grants her +1 Leaping), along with two +2 Swords and two +1 daggers.
Robe of Yūen (A sexy, revealing purple kimono. Grants no regular defense, but has elastic properties granting its user Flexible Skeleton +3 as well as Entangle/Grappling Defense +8, making it nearly impossible to get a hold of the user if she doesn't want to), also comes with a Bisentō (a +4 weapon with a reach of 10', similar to a halberd). This outfit is a fairly sexy kimono with few offensive properties, but excellent to escape attacks or effects useful to bind victims or grapple them.
Morning Star Armor (This +2 armor has only one special power: a Force Blast of 8 (Int.bonus, Efficient, 2x damage, Automatically causes collateral damage)) of Pure Energy). It comes with two +2 Energy-charged Swords (both of which granting a +2 bonus to the Energy blast if not used for anything else on the same panel). This armor is light, not especially powerful, and not among the most beautiful available... but it has a freakishly powerful force blast.
Armadura Fairy Armor (This +4, No AP, No 2x damage armor provides a solid +2 bonus to all Physical Abilities of the user, Adds +2 to all offensive actions, and grants the user a deadly, explosive Force Blast of AN 10 (Int.bonus, Efficient, 2x damage, AP, Area effect 6 around point of impact, Range 6, Automatically causes collateral damage).) It comes with a pair of +3 Energy-charged Swords (both granting +2 to the Force Blast if not used for anything else), making it very similar to, but far more powerful than, the Morning Star armor.
Sea Empress Armor (Granting +2 to defense and +5 to Water defense (despite how little this armor covers), the Sea Empress armor either grants Swimming 5 (Can exceed normal human speed) or adds +3 to Swimming with the same option, whichever is higher, the armor grants its user a Water Magic AN 9 (Int.bonus, Efficient, Create/Manipulate, Force Blast - Normal and Stun damage, 2x damage if target is on/in/underwater, Combine with Close Combat, Accumulate Energy for greater effect, Mystical Nature).) Comes with a Crystal Sword (+3, AP weapon, Dispel Water powers and spells at AN 9 when used against them). This outfit makes the user extremely powerful with and against foes using water as their main power, truly making the wielder a Sea Empress.
Seduction Armor (This 'armor' provides no defense whatsoever. Instead, it functions as Pheromones 8 against anyone, male or female, young or old, the user wishes to seduce within a range of 3, who is somehow made to look at the user while wearing it. The Pheromones do not inflict damage, nor do they stun; instead they will inspire love, lust and/or desire into the victims, an effect that might become permanent if the stones of 'damage' exceed 3 over the one necessary to cause the effect), along with a Love Sword (A simple +2 Weapon dealing stun damage only, with the words "Come on boy" inscribed on its blade). This 'armor' consists of a maid's headdress, pink panties, fishnet stockings and an apron, metallic gauntlets with a heart-shaped elbow plate on each... and nothing else. Needless to say, it is kinda embarrassing to wear... but its power is still fearsome... in a very pleasant sort of way.
Nakagami Armor (A mere +1 defense armor granting an incredible +8 Magical Defense to the user. It grants a powerful Dispel Magic AN 10 (Int.bonus, Efficient) effect that dispels any magic in a Range of 4, and makes any weapon held by the wielder a 3x damage, Ignores Toughness entirely, Range 6 advantages, as it becomes capable of cutting anything, even 'space' - thus why it can attack from a distance even when a melee weapon is held). Comes with a large halberd +4. This armor is extremely powerful, but is very light in defensive potential, and comes with a large drawback. Using it will cause its user, as soon as it is removed, to suffer -2 to all Magical actions for three hours, per panel worn up to -10 for 15 hours, due to the incredible levels of magical energy drained by it.
Piercing Armor (Interestingly, this armor is nothing more than a solid +3 defense, No 2x damage armor. Its real powers come from the lance usually accompanying this armor), and the Piercing Lance (a devastating +5, AP (Ignores 5 Toughness even when No AP), Ignores Hardness of Objects, Automatically causes collateral damage, melee weapon which can attack at a range of 10'.) This armor looks the closest to that of a real world knight, and is more practical than beautiful. Its weapon, however, is devastating avain even heavily armored targets.
Farewell Fairy Tail Armor (This beautiful, extravagant armor is a +3 defense outfit mostly made to look magnificent and beautiful than to be actually very useful in a fight). Comes with a Fairy Tail banner (actually a +2 Spear with a flag with the symbol of the Fairy Tail Guild on it). Needless to say, more of a ceremonial outfit than anything else, but still looks great nonetheless, and a decent armor and weapon at the end of the day.
Weapon Magic: 9
-Efficient
-Used to temporarily enchant one's weapon, making it stronger and allowing it to perform various effects
-Gain 1 Element per AN
-Gain 1 extra Wpn.modifier per 2 stones played above starting cost
-3 stones to activate, 1 to maintain
-Elements: Fire (2x Damage), Ice (Atk VS Agility to paralyze, Damage = Panels of Paralysation), Water (Reduces automatic defenses by 1 stone per 2 stones of Damage for damage in panels), Lightning (2x damage, Normal and/or Stun damage), Light (Atk VS Intelligence, Target believes caster is an ally if Damage occurs. Duration = Damage in panels), Darkness (Atk VS Intelligence, Target is blinded if damage occurs), Non-Elemental (Limited Armor Penetration; Doubles Weapon Modifier VS Toughness), Gravity (Successful attack reduces foe's White Stones of Health by half; Can't be used to kill) and Earth (Armor Penetrating)
Biomorphism: 10
(Int.bonus)
-As Metamorphosis (Transformation occurs on same panel, Needs not maintain)
-Usable as Shape-Shifting, Stretching (Str AN is maintained) and Growth (Toughness increases by +1 per AN) at AN
-Usable as Shrink at 1/3 AN, rounded up
-Usable as Invisibility at AN via Camouflage
Telepathy: 8
(Int.bonus)
-Read Minds
-Telepathic Communications - Broadcast
-Illusions
-Project Thoughts/Control Others
-Create Links with Others
-Empathic Projection - Any Emotion
-Empathy
-Read Memories by Touch
-Edit Memories
-Control Dreams
-Possession
-Burn Humanity in Mortals/Symbiotes
Flight: 12
(Agl.bonus)
-Efficient
-Via bat-like wings of constituent matter, but not limited to Speed 5
-Usable as Time Travel at Half AN, rounded down
-Perfect Maneuverability
-Retractable Wings
Second Origin: 5
-Increase Strength, Agility, Speed, Durability, Ki Control, Zanzoken, Toughness, Reflexive Dodge and Energy-based/related attacks (including Magical Actions and Final Fantasy actions except Break, Beast Taming and Alchemy) by +1 per stone played, with +1 to Power Level every 3 stones played. Stones in between add 1 to Energy Battery.
-Stones spent remain in action box till removed.
-Heal 1w upon transforming
-Currently requires external trigger to use (At this point in time, Erza is unable to access her Second Origin power through her own abilities, having only succeeded at doing so when infused with magic from an external source. She is, however, one of the few mages alive who's able to use the power when she does access it as opposed to being crushed and drained by it.)
Inner Darkness: 2
-As Super Saiyajin, but feeds on the user's darkest, most negative emotions.
-Increase Strength, Agility, Speed, Durability, Ki Control, Zanzoken, Toughness, Reflexive Dodge and Energy-based/related attacks/weapons (including Magical Actions and Final Fantasy actions except Break, Beast Taming and Alchemy) by +1 per stone played, with +1 to Power Level every 3 stones played. Stones in between add 1 to Energy Battery.
-Stones spent remain in action box till removed.
-Heals 1w upon transforming
-Must experience dark/negative emotions to activate, such as sadness, hatred, rage, envy, etc.
-One may eventually purchase the 'Calm' option, but if 'Legendary' is ever acquired, it will still require the aforementioned negative emotions to be used at that level of power.
Symbiote Genesis: 9
(Int.bonus)
-
Call Constituent Matter Creatures
(As Summoning; May only summon semi-sentient creatures made of constituent matter; Summons are always loyal to summoner.)
-
Create Symbiotes
(Allows user to create up to AN Symbiotes at once with 10w character creation stones per stone played. All created symbiotes have the usual weaknesses to Sonic and Fire, and have some degree of superhuman abilities, constituent matter, shapeshifting, wall-crawling and telepathic powers, but their powers may vary aside from that.)
-
Dominate Symbiotes
(Costs 1 stone per Symbiote per use. Each stone played unleashes a full AN+Intelligence stones mental attack usable only on Symbiotes, forcing them to obey the user for up to AN hours.)
General Knowledge: 8
(Int.bonus)
-Efficient
-Magic/Occult Lore
-Mage Guilds
-Fairy Tail Guild/Mages
-Fiore Lore & Culture
-Tactical lore
-Weapons & Armors
-Deciphering the weakness of spells
-Smut and obscene novels
Cooking: 5
(Int.bonus)
Medical Healing: 4
Iron Will: 6
-Efficient
-Leadership
-Heal White stones
Social Skills: 7
-Beautiful
-Persuade
-Serious
-Authority
-Intimidate
-Tsundere
-Fairy Tail Protocol
MODIFIERS
Immortal
-An host will not physically age as long as they are bonded with All-Black.
No Need to Breathe/Sleep
Power Level 4/7
-Power Level Regeneration
-Tireless 2
Godslayer
-All-Black was created out of Knull's shadow for the very purpose of killing all living things in existence, especially gods, deities and similar entities, making it, and its host, able to essentially kill anything.
-In game terms, this power allows the user to potentially permanently kill any god, cosmic entity and eldritch abomination in existence, even if they would normally benefit from Reconstitute Self. Of course, this is subject to GM's call.
Artificial Eye
-Erza lost her right eye to the horrors she suffered as a slave when she was a child, which was replaced by an artificial eye made by Porlyusica. The eye functions just as well as Erza's former eye, looks normal, and makes her Immune to Illusion Magic and Stone Eyes Magic.
Acute Sight/Hearing/Senses +3/+2
-Her sight and Hearing are simply due to Erza's skills, training and extreme attention to her surroundings. Her sight would have been lower due to the loss of her eye, but her Artificial Eye more than makes up for it.
S-Class Mage +4
-Adds to any Magical Action(s)
Swordsmaster +3
-Adds to Close Combat, but only when using Weapons
Fangs/Claws +3/+2
Weapon Morphing: +5
-With any, all or none of the following advantages: 2x damage, AP, Normal and/or Stun damage, Area attack, Telescopic, Range 3
Symbiote Webbing +3
-Adds to all Constitutent Matter attacks
Rapid Recovery/Superior Healing Factor
-As Enhanced, but heals 2w of Health per panel
-Instant Limb Regrowth
-A bonded host will survive seemingly lethal wounds such as decapitation or being stabbed through the heart.
Immense Magic Power +5
-As Energy Battery and Deep Reserves
Reflexive Dodge +6/+9
Toughness +7/+12
-No 2x Damage
Energy Defense +10
Mental Defense +6/+12
Magical Defense +7
Immunities
-Poisons, Diseases, Fatigue, Food Poisoning
Targeting +3
Leaping +3/+5
Enhanced Vision 7
-See in Darkness, Telescopic, Fast Sight, Sense prayers to Gods
Prescience
Foot Swordsmanship
-Can actually effectively wield swords with her bare feet by wielding their hilts between her big and second toe
Fusionism
-If an host is fully dominated by, or fully cooperative with, All-Black, the symbiote is able to fully merge with them permanently, acquire their powers and memories as his own, and be joined with them fully in such a way that nothing short of the host's permanent death will separate them.
-Thankfully, Travis Howlet's sacrifice prevented Erza from suffering this fate, at least for now. Should his mental shield ever fail, however, the entity would have free reign to acquire her body and powers for its own use.
Reconstitute Self, Special
-If an host of All-Black is killed, and it is neither removed nor does it leave its dead host for a new one, the victim will be brought back to life and fully healed within 5 minutes. Alternately, if a former host is killed while not bonded with All-Black, it can merge with them anew and revive them within an hour.
-All-Black itself is indestructible to most known means, and may only be destroyed if the deity known as Knull is permanently killed, which is essentially impossible.
Wealth: 5
-Gains $100,000 per issue/month
CHALLENGES
-Looking non-human (-3; Erza's body is now shared with the primal symbiote known as All-Black, a black, red and white alien matter living 'suit' which can engulf her form to turn into a monstrous humanoid with large, white 'eyes', a huge maw filled with way too many fangs, claws, eerie tendrils and an ominous red spider-like design on her chest. Its constituent matter manifest every now and then when she uses most of the symbiote's powers, which can certainly make her appear as some sort of horrible demon. However, since she has the ability to appear human and shapeshift essentially at will, this challenge is reduced.)
-Psychological (-3; shared mind with All-Black. The primal symbiote is now permanently trapped within Erza's mind and body, forcing her to coexist within them with the evil entity. Luckily, Travis' mental shield prevents her from being within his mercy, allowing this challenge to be lowered, despite her unwilling 'roommate's' very annoying presence.)
-Psychological (-4; the Hunger. Since merging with All-Black, Erza constantly experiences the endless hunger of the primordial darkness from which it came from, a hunger which simply cannot be fully satisfied, no matter how much she consumes.)
-Psychological (-1; mildy no-nonsense. Has gotten more relaxed lately thanks to her friends and family, but still tends to be overly serious.)
-Psychological (-2; twisted sense of privacy and modesty. Erza seems to consider friends as expansions of one's privacy and modesty, and as such not necessitating her to make use of either in the presence of friends, appropriate or not. For example, she doesn't mind being seen naked by boys, bathing/showering with them, or wearing fairly shocking outfits. She doesn't see much problem with crawling into Lucy's bed at night, either.)
-Strange Speech Pattern (-1; not unlike Venom, Erza's symbiosis with All-Black is incomplete; due to the former's disagreement with the latter's goals, and the latter's desire to control and 'own' the former. This causes her to speak using the plural form of first person, referring to herself as 'We' and 'Us' when the symbiote is fully manifested.)
-Loyal (-3; to her Fairy Tail fellow guild mates)
-Corruption (-2; while it is unable to downright control her, due to All-Black's influence, Erza is more susceptible to her darker emotions. She has a shorter fuse, is more prone to display anger and hatred towards those deserving of it, and so on. She is still in control, but it sure feels tempting to give in at times.)
-Inferiority complex (-2; moderate. Having been 'defeated' and almost raped and sold as a slave by mere lowlives and arguably weak bandits, Erza has lost quite a bit of confidence and pride in her capabilities, revealing a vulnerable side to her she had never fully shown before.)
-Minority (-1; Erza is Pansexual, and as such sees little importance in people's gender when determining whether she has an interest in them.)
-Scared of opposite sex (-1; mild. Her recent encounter and misfortune at the hands of a group of male bandits have left her more than a bit jumpy and nervous about being touched by men, especially strangers or unexpectedly so.)
-Lightweight (-2; Erza doesn't hold her liquor well at all, and when drunk, she becomes aggressive and has trouble recognizing people she knows.)
-Secret (-1; she enjoys reading smut and erotic novels, and would rather avoid people knowing about it.)
-Haunted past (-3; her past as a slave in the Tower of Heaven, her horrible memories of being subjected to rape at the hands of the Tower's guards multiple times back then, and her more recent almost rape and being sold as a slave again by bandits/slavers on her first mission since Travis' introduction as Guild master. The only other people who know about the former two are Porlyusica, who treated her back when Makarov brought her to the old healer as a child, and Jellal.)
-Recurring Nightmares (-1; likely triggered by her defeat at the hands of rapists/slavers, Erza has begun experiencing nightmares of both her time as a slave at the Tower of Heaven, or powerless at the hands of the men in that inn. When she dreams of such nightmarish visions, they are quite vivid and leave her troubled and shaken upon waking up.)
-Special Vulnerabilities (-2; Fire and Sonic. While said weakness is extremely mild in comparison to normal symbiotes, All-Black still experiences noticeable discomfort in the presence of fire and loud, overpowering noises, causing this challenge's malus as a negative sitmod to actions when exposed to such effects.)
-Needs Attachment to Stay alive (-4; the only thing keeping Erza from being a permanent meatsuit and puppet to her primordial darkness godlike symbiote is Travis Howlet's mental shield, which he stated himself as being a 'temporary solution at best'. Should said protection run out without an alternate means of safely holding the entity within her mind and body, or another means of containment, being discovered, Erza is condemned to one day become little more than the symbiote's own body and permanent vessel.)
EQUIPMENT
-Currently worn: Heart Kreuz Armor (+2 defense)
-Sword (+2)
______________________________________________________________
SKILL POINT SYSTEM DETAILS
- Unarmed Combatants gain a third Energy Pool called Skill Points.
- Skill Point Pool is 2/3 of your Close Combat Action Number
- Skill Point Regeneration is 1/3 of your Close Combat Action Number
- Use Skill Points to add Advantages to your attacks for a Panel on a Point per Cost Level Basis.
- If Purchasing Area Effect, Area = 2, Spend extra SP for more area.