Post by Stark on Nov 23, 2007 21:09:21 GMT -5
So this is Alucard... as the thread's title mentioned.

Another one of my favorite characters ever, this guy is totally one of the best at what he does (sorry Wolverine). He would hold his own against most Marvel Characters, but might still be defeated by the very heavy hitters (Professor X, Apocalypse, Doom, etc.) Tell me what you think. (I know he has more than 9 actions. He's one of these guys, like Doom, that just should not be limited in such a way.)
___________________________________________________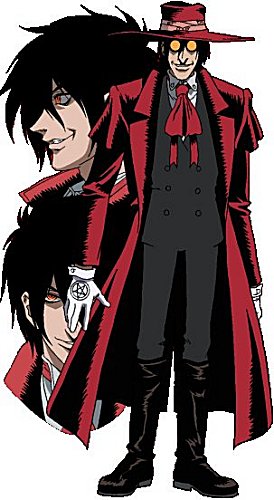 [glow=red,2,300]
ALUCARD
[/glow]
Height: 6'3"
Weight: 185 lbs
Eye color: Red
Hair color: Black
Species: Original Vampire
ABILITIES
Int:5
Str:7
Agl:7
Spd:5
Dur:7
Health: 7
Energy: 21
ACTIONS
Close Combat:7
(Str.bonus and Wpn.Modifiers)
-Martial Arts
-Stakes
-Fencing
-Grappling
-Breaking/Ripping members
-Most Archaic Weapons
-Impaling
Ranged Combat:10
(Up to two Wpn. Modifier)
-Most Firearms
-Thrown Stakes
-Precise Shooting
-Handling Recoil
-Shooting through cover
-Jackal 13 mm and Joshua
Acrobatics:5
(Str.bonus)
Wall-crawling:5
(Agl.bonus)
Concentration:6
(Int.bonus)
Drain Energy:7
-Improved Drain
-Must bite to drain
-Alucard may turn virgin women to Vampires if he bites them. Those vampirized by him become more powerful vampires than normal. Others may only be turned into ghouls.
-Special: If Alucard somehow managed to kill his opponent in a very gory manner (such as summoning his lovely hounds to tear apart the poor lad, beheading an opponent with his trusty gloves, or anyway that gently splashes blood all around), he may touch the blood with any part of his body (example: Simply standing in the blood pool is enough), spend stones equal to the energy that was left in the body at the moment of death (or max health, whichever is lower) and drain it all.
Hunting/Tracking:7
-Set/spot Ambush
-Follow Trail
-Stalk
-Set/spot traps
-Move silently
Invisibility:2
Phase Shift:5
Telekinesis:1
(Int.bonus)
Create Illusions:2
Fear:4
Telepathy: 7
(Int.bonus)
-Project thoughts/Control others
-Create links with others
-Telepathic Communications
-Requires eye contact or speaking for a panel to initiate, but not to maintain
Teleportation:4
-May not bring others with him
-Requires one panel to concentrate on destination
Summoning:0
-Intelligence bonus
-Does not require Mastery of Magic
-Can't be improved by lines
-May summon demonic two-headed dogs covered with red eyes, amongst others (the dogs are called "Baskerville hounds" by Alucard); others include flocks of bats as well as other animals of the night.
-Always control his Summoned beasts
-May not invoke their powers
Statecraft:5
-Leadership
-Tactics
-Obedience
-Diplomacy
-Rallying allies
Social Skills:6
-Persuasion
-Intimidate
-Maniacal Laughter
-Protestant Church Culture
-Hellsing Culture
-Transylvanian languages and culture
Metamorphosis:4
-May change into a wolf, a flock of bats, a dark, liquid substance covered with red eyes, a little girl, and maybe some other, unkown forms. No limits were ever stated for him, but he tends to favor these forms and his own.
MODIFIERS
-Attractiveness +2 (adds to social skills and similar actions if appropriate)
-Fangs +2
-Animal Senses:7
-Mental Defense:+7
-Magical Defense:+7
-Immortality
-Instant Healing Factor
-Reconstitute Self (Instantly)
-Limited Prescience (May reallocate stones to Acrobatics)
-Reflexive Dodge +4
-Toughness +1 (No AP and no 2x damage)
-No need to breathe
-Targeting +5
-Enhanced Vision 5(See in darkness, Distant Sight, recognize vampires/ghouls/demons/undead on sight)
-Fast-Draw 5(reduced to 3 due to the Jackal's size)
-Limb Regrowth (instantly)
-Wealth: None(has access to Hellsing Organisation's ressources if Integra so desires)
-Psychic link with Integra and Ceras Victoria
CHALLENGES
-Insanity 7 (Although Alucard is not downright crazy, he does not think at all like a normal human.... and he's a bit crazy.)
-Looking non-human (-2, red eyes, elongated canines, general creepiness)
-Severe obsession (-3, Won't let anyone except Integra and Seras Victoria get near his coffin)
-Deadly Enemies (father Alexander Anderson, operatives of the Catholic Church, most vampires, ghouls and vampire hunters, -10 total)
-Uncontrollable activities (-5, take orders from no one, care for no one, except for Integra Wingates Hellsing. Will listen to Walter if he knows the orders come from Integra.)
-Needs blood to remain at full power (-2)
-Hatred of God, put his trust in humanity (-2)
-Extreme Vanity (-2)
-Loves to kill (especially, but not only, vampires), wishes to fight very strong opponents(-3)
EQUIPMENT
-Joshua (+3, 2x damage, Armor Penetrating, 4x damage against vampires and ghouls, beings of less than 5 in strength can't use it.) A heavily modified .454 handgun, the Hellsing ARMS454 Casull Auto 'Joshua' was the first handgun created by Walter specifically for Alucard in his battles against his fellow vampires. Shells are made out of blessed silver, and are explosive. Holds 6 bullets, 7 if one shell is in the chamber. If Alucard uses his gun as a melee weapon, it adds 1 stone due to its weight.
-Jackal 13 mm (+5, 2x damage, Armor Penetrating, 4x damage against vampires and ghouls, unusable by beings with less than 5 of Strength). Heavily customized 13mm Caliber Handgun, length of 39 centimeters, weighs 35 lbs, fires explosive silver bullets coupled with blessed mercury to maximize damage. Holds 6 bullets per clip, plus 1 in the chamber. If Alucard uses his gun as a melee weapon, it adds 1 stone due to its weight.Having fought Alexander Anderson and found out his Joshua wasn't enough firepower to tame the priest, Alucard asked Walter for some higher firepower. The Jackall was the result.
-Runic Gloves: Increase Alucard's Telekinesis and Summoning Actions of 2 each. The gloves allows him to Counter any spell (automatically succeeds. As long as he's around, Integra is totally immune to harmful Magic thanks to Alucard.) directed at his mistress, Integra. Also enchanted in such a way to deal damage as claws (+2, Armor Penetrating) would, and may kill vampires. Using these, Alucard can rip vampires to shreds using only his hands.
-Lots of 13 mm and .454 ammunition in the form of cartridge clips
-Red and black Trenchcoat and suit, with large hat and Yellow Sunglasses
SPECIAL WEAKNESSES
Although Alucard is immune (or at least regenerates from) almost all normal weaknesses of vampires, he is weaker when he is in sunlight. In such situations, he may not use his Invisibility, Phase Shift, Fear, and Create Illusions actions. He also suffers a -2 penalty to all actions. However, no other vampire weakness applies to him (silver, blessed weapons, holy water, or else).
CROMWELL APPROVAL
To attain maximal power, Alucard must release various seals on his powers. He is in fact informing, or more accurately, asking for his master (Integra) to release his powers. It works as such: when he needs to gain access to more of his powers, Alucard will announce "Releasing contract restriction system to level "x"." The levels range from five to one, with one being the highest level of power. He will then announce the Situation, which range from C to A, with A being the most dangerous. To reach his highest level of power, he will state: "Unlocking limited release control system to level one. Situation A. Cromwell approval in effect. Hold release until target is silenced." Alucard apparently does not have to ask anyone to release levels 5 to 2, but Integra must grant him access to level 1 or 0 for him to change.
No seal is released: Use C.A.D as written.
1st Seal Released (level 5):
His Invisibility becomes 3, Telekinesis 2, Create Illusions 3,Fear 5, Summoning 3, and Metamorphosis 6.
2nd Seal Released (level 4):
His Invisibility becomes 4, Telekinesis 3, Create Illusions 4, Summoning 4, and Metamorphosis 8.
3rd Seal Released (level 3):
His Strength improves to 8, Invisibility becomes 5, Telekinesis 4, Create Illusions 5, Fear:6, Summoning 5, and Metamorphosis 10.
4th Seal Released (level 2):
Invisibility becomes 6, Telekinesis 5, Create Illusions 6, Summoning 6, and Metamorphosis 12.
5th Seal Released (level 1):
Strength increases to 9, Invisibility becomes 7, Telekinesis 6, Create Illusions 7, Fear:7, Summoning 7, and Metamorphosis 15... Watch out.
For each seal to be released, Integra must agree with the demand. If she refuses, no increase in power occurs (indeed, she very rarely refuses, but she could if she wanted.).
The 6th and Last Seal, Known as "Level 0":
If the last seal is released on Alucard, a really rare event indeed, he stop being who he is, to become who he was: the Count Dracula, himself. In such a event, he answers only to the title "Count" or the name "Dracula" (or even "Master", huh, Ceras?), and refers to Integra as a "Countess". His strength becomes 10, both his agility and speed increase by 1 (to 8 and 6, respectively) and his Durability becomes 10 (thus giving him 10 Health and 30 Energy).
His Toughness increase to 5, as well as his Reflexive Dodge, and his Close Combat and Ranged Combat scores are switched. His Fear power raises to 10, his Drain Energy to 9, his Metamorphosis rises to 20 and his other supernatural actions (phase shift, invisibility, etc.) increase by 2. His clothing becomes much more ancient noble-like, and his appearance changes to match the traits he bore around 600 years ago... His pistol is nowhere to be found, and he has a long, finely made sword sheathed by his side. The blade bears no name, but it is legendary and most likely enchanted by the same diabolical powers that inhabit Dracula himself. (Dracula's Sword is a +5 Weapon, Armor Penetrating, that inflicts x3 damage to divine or god-related foes. Is completely Indestructible as long as the Count himself still stands.)
He also may release the simulacrums (sorts of revenants, but they are more or less his slaves) of any enemy he killed by drinking his/her blood or by absorbing him/her using his "Baskerville hounds" or any other tricks he may have. These simulacrums possess more or less the same powers as the originals (modified as much as Dracula wants depending on his Metamorphosis power), with the restriction that they are completely loyal to Dracula and his closest friends... only. This means that Ceras Victoria and Integra would be spared, but anyone else, human or not, is fair game to the simulacrums.
Dracula will remain in this form for as long as he needs, for a complete day, or as long as Integra wishes it, whichever comes first. Alucard can't release the 6th seal for as long as it was released in the first place. The only way to allow him to remain Dracula any longer would be to completely removing the seals forever, which can be only accomplished by allowing Alucard to make Integra a vampire, something she never agreed to, but never completely refused. Who knows what would happen if she did agree one day...
____________________________________________________
STORY:
Alucard is Hellsing's trump card when it comes to hunting down and killing tough supernatural targets. When all else fails, or when it is obvious that at least one dangerous vampire is involved, the red-clad, black haired, and crazy-eyed vampire is sent to deal with the matter. He is also, indeed, the one operative of Hellsing with the most kills, followed far behind by Walter the butler, the man known as Berzerker and then by Ceras Victoria.
The willing servant of Sir Integra, he will not listen to anyone else's orders, considering most humans to be fools and lower vampires to be little more than pathetic imbeciles or morons. Integra, however, could almost ask him anything and he would do it for her with unwavering loyalty. He is extremely protective towards her, and would allow no one to insult her, even less raise a finger against her. He tends to kill without mercy those who dare to even try to perform one of these deeds. The only others he considers of his status or higher (and who are allowed at least a similar standing in Hellsing) are the Berzerker, Walter and Ceras Victoria. He shares a friendship-like relationship with the Berzerker, because he likes the way he dedicates himself to battle, bloodshed and death in Integra's name, while still being human. That and the fact that the man stood against Alexander Anderson and lived to tell about it raised Alucard's admiration for him. He is amused by the fact that he's jealous of his position as Integra's bodyguard, but he never mentions it.
Alucard loves to fight, and to kill. He likes to let Integra decide if he must kill or let his foes live, apparently taking much fun in listening his mistress order him to take the life of someone for her and the organisation. He respect opponents who continue fighting even if the odds aren't in their favor, and as such, respected father Alexander Anderson much. He also would respect a vampire he fought if the individual showed great power, strenght, speed or else, but as soon as his opponents show even a hint of weakness, Alucard loses his esteem very fast, saying sentences such as "Is that all you can do?! And I thought I had a worthy opponent... What a pity..." Although it might look like sarcasm, he is very sincere, because he wishes to fight very powerful opponents and find very few.
Alucard considers himself as a lowly servant of Integra, but as a very high ranked operative of Hellsing. The way he sees himself is a bit complicated, as he seems to consider himself (with reason) as the best of the best, while still speaking in a way that kinda diminish his prestige to onlookers. He once said to his much weaker adversaries: "I'm merely a tool of the special operations agency, Hellsing. I dispose of garbage."
Alucard is probably the last of the Original Vampires known to the realm of men, although it is beleived that if Ceras Victoria accepted to drink some blood of her master, she would become one as well. Although he serves her, his dearest wish would be to be allowed to vampirize Integra to transform her into his "Countess". It seems that with her strength of will and personnality, Integra would probably become an Original Vampire, with almost as much power as Alucard possess himself. Until now, however, she always has refused. Alucard keeps serving her, hoping she will change her mind someday...