Post by Janus on Jun 9, 2018 12:40:50 GMT -5
Name:
Sindor Krow
Height:
6'0"
Weight:
185lbs
Eye Colour:
Brown
Hair Colour:
Brown (shaved head)
Species:
human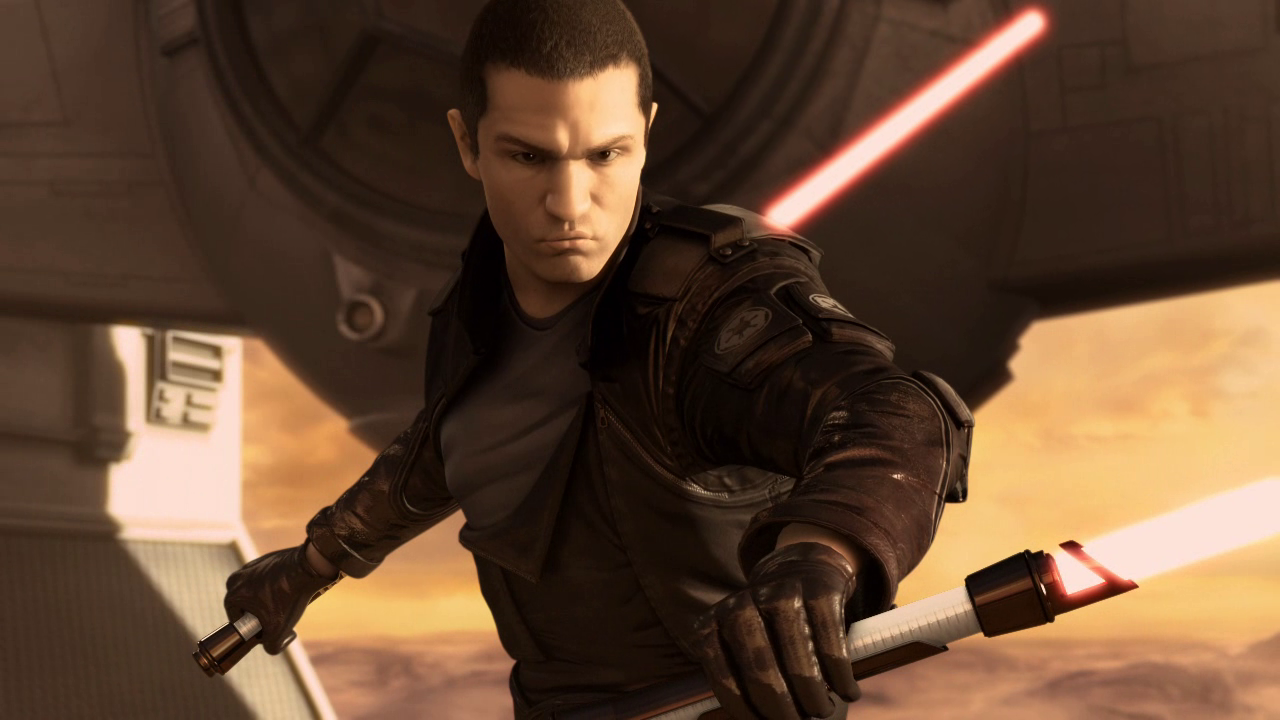 Abilities
Int: 7 (i)
Str: 3
Agi: 5
Spe: 3
Dur: 3
(20w)
Actions
Unarmed Combat: 2 (1w)
- Agility Bonus
- Hand To hand
- Dodging
Melee Combat: 4 (5w)
- Weapons modifier and Agility Bonus
- deflect projectiles/redirect shot (+2w)
- Disc Fighting
- Taught by Darth Vader
- Improvised Weapons
- Dodging
General Knowledge: 2 (1w)
- Int Bonus
- Jedi History
- Engineering
Ranged Combat: 1 (1w)
- agility bonus
Social Skills: 5 (3w)
- Zeison Sha culture
- Pursuasion
- Deception
- Underworld Culture
- Intimidation
Technology: 6 (6w)
- Int Bonus
Thieving: 3 (1w)
- Agility Bonus
- Hiding
- Security Systems
- Escaping
Use the Force: 3 (12w)
- Int Bonus (+2)
- Telekinesis + Weapon Modifier (+2)
- Force Field (+2)
Vehicle Use: 3 (1w)
- Ground craft
- Space Ships
- Evasive Manuvers
Modifiers
Reflexive Dodge: 3 (4w)
Wealth 3 (1w)
Midiclorians: 5 (4w)
Light Sabre Proficiency (2w)
- Shien/ Djem So Form
Equipment
Disc Blade: +3 AP 1 Ranged weapon when thrown, x2 damage when thrown via the force (2000)
Light Sabre: +5, x2 Damage AP3, can deflect blaster bolts. (3000)
Zeison Sha Warrior Armour: +2, No AP1 (1750 +5% = 1838)
Credit chip (100)
Portable computer (5000)
Security Kit (750)
Utility Belt (500)
36812 credits remaining
Languages
Basic
Binary
Bocce
Rodian
Shryiiwook
Sith
Challenges
Hunted by the Zeison Sha: 3
- With the death of his Master the Zeison Sha council have now become convinced that Sindor has fallen to the dark side.
Psychological (Dislikes/Distrusts Jedi): 2
- Brought up on Yanibar as a Zeison Sha he could not help but be influenced
Haunted Past: 2
- Saw friends tortured to death
Phobia (Ysalamiri): 3
- After having his force powers taken away by one these, these creatures terrify him.
Need For Revenge: 3
- Wants to kill the Dathomiri witch who killed his friends and preferably the people behind her.
Eternally Curious: 2
- Sindor simply has a curious soul. In his youth he loved to learn about the force, as a salvager he loved to learn about different technologies, now as an imperial agent he knows he must find every advantage he can if he is to face his enemy.
Background
Throughout galactic history the Jedi have spawned many offshoots. One such offshoot are the Zeison Sha. Born from Jedi families abandoned and forgotten about on the Planet of Yanibar, they grew into a unique force tradition. Following their reintroduction to the Galaxy and the Jedi order they grew to dispise the Jedi for their practice of taking force sensitive children to be trained without the consent of their parents.
Their society however was made up of many species, Human, Twi'lek, Duros and Rodians amongst them. Sindor was one such Human.
Neither of Sindor's parents were force sensitive but from a family famous for its force users, so as was Zeison Sha tradition a master was assigned to live with his family and tutor him. Twaertt Shosmoch, a Rodian Zeison Sha master with years of experience was a good teacher, Sindor however was not a good student. Study of the force requires discipline and patience. Discipline Sindor had in spades, patience, not so much. As with most of his family Sindor was brilliant, learning things in an instant, but always wanting to experiment, to find out why, to see what could be done better. He had little patience for the time honoured tradition of the Zeison Sha and even less for the concepts of light and dark that students are expected to accept without question.
His tutor tried to solve this first by granting him access to the Zeison Sha library at Sha Kalen to study the history of the Jedi and the Zeison Sha, hoping the lessons of the past might show him the truth of the lessons he sought to teach. This only made matters worse. Within months Sindor was calling into question the very foundation of the ideals that made up the Jedi and Zeison Sha.
So his lessons were stopped and he was encouraged to pursue a different avenue of study. Mechanics and engineering became his passion and once again he excelled. As he grew however he became bored with the restrictions of Yanibar. The Zeison Sha masters were always watching and with his talents and abilities he knew there was a whole galaxy out there waiting to be explored. So, without warning he left and never looked back.
Naturally this caused some concern amongst his former tutors. The questions he had been asking were enough to raise suspicion that he might be falling to the dark side. Whilst he was around he had always been able to persuade his superiors that their concerns were unfounded.
When they discovered, after he had left, that he had been researching into the Sith their worst fears seemed confirmed and they sent a Zeison Sha master out after him with orders to bring him back to Yanibar. Sindor however had made good his escape and whether by natural cunning or by the will of the force Sindor had vanished completely.
He found himself in a Galaxy of amazing opportunity. Even so long after the clone wars the Galaxy was littered with wrecks and battle sites. His skills were technical so he took up with a group of salvagers who were quite happy to take this 'not-Jedi' onboard and teach him the tricks of the trade. There he had a purpose and friends of his own for the first time in his life. They started off slow of course, but often the biggest scores came with a 'little' bit of risk. Military exclusion zones, cargo freighters belonging to crime syndicates, wrecks in dangerous environments. Everything was fair game, each score was bigger than the last.
These were good years but soon the risks caught up. They caught up in the guise of Geria Xenn, an enforcer for the Black Sun's crime syndicate and a Dathomiri witch. A price had been put on the heads of Sindor's friends, one from long before he knew them but the Black Sun never forgives, and it never forgets. Geria had tracked his crew through three sectors only to find them in an asteroid field picking through the remains of a Zygerian corvette. One by one his friends simply vanished until he was left alone, then blackness overtook him and he awoke strapped into a Zygerian slave harness and the torture began.
Geria had orders to kill the salvagers in a way that would send a message. The way she chose was to torture his friends to death, one by one as he watched helplessly because of the caged Ysalamiri next to him. There was nothing he could do and he expected horrific death at any moment, a death that never came. Geria left him as a witness having recorded the entire ordeal then left taking the Ysalamiri with her.
Sindor lay there for who knows how long looking through the force for any sign of life from his companions but there was nothing. The witch knew her job so with a tug from the force he broke free. The man that broke free however was not the care free boy from Yanibar. The boy would look answers to question merely for the fun of the puzzle. A darker fire was now lit within him for now he had a purpose, now he wanted revenge.
He spent a day gathering his things, burying his friends in their ship, atmosphere vented, powered down and parked in the deepest crater on the biggest asteroid in the field. He then took a shuttle and a cryo-unit from the corvette and headed for the nearest shipping lane. It was two weeks away at sub-light but a ship would pick up his beacon and then he would be on his way and so he moved on.
In the end Sindor was picked up by a cargo transport headed to the planet Kyloth, an out of the way planet in the mid rim. Few people visited there so it came as a surprise to find an imperial star destroyer in orbit around the planet. Sindor found himself in the midst of a manhunt as Imperial troops were pursued the Jedi Orax Vim, a Bimm Jedi of little renown who had manage to escape order 66. As if the force had intended it Sindor literally bumped into the Bimm and then seeing the Jedi was about to escape used force guided explosive disc blades to destroy the Jedi's escape vessel and give the troopers a chance to kill him. Anger still burned bright within him and any force user was a target. It was at this point his old master turned up and they began to fight, it wasn't equal in any way, master Shosmoch had years of experience but was loathed to see his old pupil destroyed. He let Sindor tire himself out before moving in. The same mercy however was not in Darth Vader who had been watching from close by. This battle was short and decisive, Vader killed Shosmoch and knowing of Sindor's hand in the death of the Jedi took Sindor into Imperial custody.
Vader interrogated Sindor himself and immediately sensed the anger in him. That in itself would have been enough but both shared a dislike of the Jedi and Sindor's account of how Jedi were viewed as child snatchers hit a chord in Vader's mind. They also shared a distain for tradition and bureaucracy, so Vader took Sindor under his wing, offering him the opportunity to explore the force properly and without restriction. In return Sindor would help 'set the Galaxy to rights' away from the restrictions of the Jedi order and the corruption of the senate. Sindor would have his chance at vengeance and they would make a better future for everyone.
Sindor accepted and gladly took the tuition that Vader offered. He was even granted Orax Vim's old light sabre which he used for parts to create his own. He would never be a Jedi, or a Sith, neither was right for him but he would take whatever advantage he could get in his new quest.